The Developer tab in the Excel Ribbon contains buttons for Macros & VBA. This includes buttons to open:
The Visual Basic Editor (Alt+F11)
The Macros Window (Alt+F8)
The Macro Recorder (Alt,L,R)
Macro Security
Add-ins Menus
Insert Form and ActiveX Worksheet Controls
The Developer tab is used frequently when creating & modifying VBA macros, and when adding interactive controls to the spreadsheet.
The Developer tab can be enabled in the Excel Options window. The easiest way to open Excel Options is to:
Right-click any ribbon tab and select "Customize the Ribbon…"
The Excel Options menu will open and the Customize Ribbon tab will automatically be selected in the left-side bar.
Click the Developer checkbox on the right listbox where all Ribbon Tabs are listed.
Press the OK button.
The Developer tab will be enabled and appear in the ribbon every time you open Excel. You only have to enable the Developer tab once time.
---
Turn on the Developer tab in Excel if you want to create a macro, export and import XML files or insert controls.
To turn on the Developter tab, execute the following steps.
1. Right click anywhere on the ribbon, and then click Customize the Ribbon.
2. Under Customize the Ribbon, on the right side of the dialog box, select Main tabs (if necessary).
3. Check the Developer check box.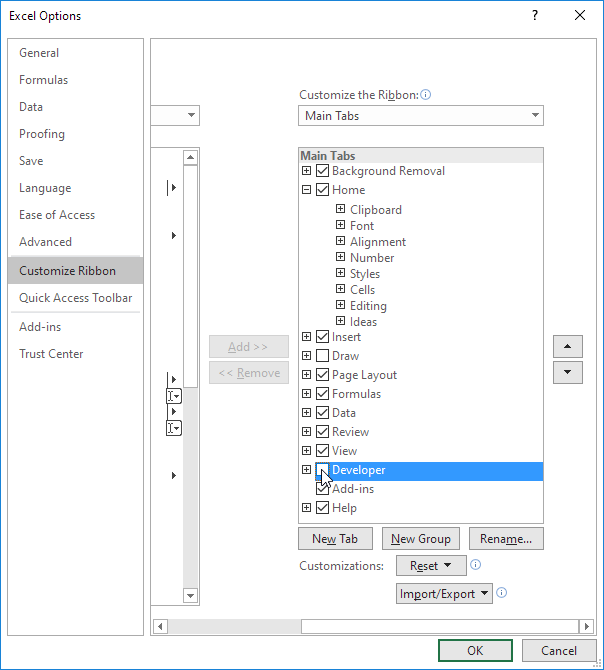 4. Click OK.
5. You can find the Developer tab next to the View tab.